Looking for a fun food day to celebrate? Mark your 2022 calendar for April 6th as National Food Faces Day.
Appropriately, the celebration falls on the same day as the birthday for Rudi Sodamin, the Holland America Line master chef, who has been playing with food for years. In fact, the holiday honors Sodamin's expertise and was created by Holland America Line which will be celebrating its 150 years as a cruise line in 2022.
"We have seen the way Food Faces resonates with people, showing us that Rudi's passion for bringing happiness through food can transcend beyond our guests to fans everywhere," Gus Antorcha, president of Holland America Line, said in a news release.
As a youngster growing up in Austria, Rudi Sodamin would stand by his mother's side in the family kitchen. He not only liked the smell and taste of food, he liked how it looked.
To him, the colorful ingredients were like paint that an artist could use for an edible masterpiece. "Food is the paint of our lives," he said at a lunch aboard the Holland America Eurodam. "Food is art."
Designating April 6th as National Food Faces Day not only honors Sodamin's creativity when it comes to food and art, "it also shows everyone that Holland America Line continues to be an innovator in unique ways," Antorcha said.
On board Holland America Line ships, guests who dine in Rudi's Sel de Mer restaurant can enjoy dining on exclusive limited-edition places made by Bernardaud, the leading French manufacturer of Limoges porcelain.
Each large white plate charger is decorated with a Food Face that the culinary pop artist has created. Mine at that luncheon was titled "Rudi's Catch" and had facial features composed of fish, shrimp and other tasty ingredients.
How the Food Faces all started, Sodamin said, was several years ago when the chef was playing around in his kitchen. Feeling whimsical, Sodamin made a simple happy face on his plate with some edible components.
"It made me smile," he remembered. "So, I began making face plates with meals for other people and the response was always the same – it made people happy."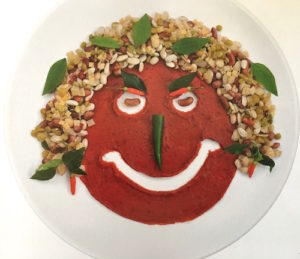 Pleased with the reaction, Sodamin began constructing more and more faces, using vegetables, fruit, meat, fish, grain and sweets. Over time, he created a cast of unforgettable characters expressing a whimsical spectrum of human emotions.
"Food is universal," Sodamin said. "Food crosses all ages, languages and cultures. Regardless of gender, nationality, race or social status, food can be an international language that appeals to everyone. People around the world can connect and communicate through food."
To keep track of his Food Faces, Sodamin began photographing them. Before long, Sodamin had hundreds of his unusual Food Faces. "My hobby became an artistic passion."
Sharing his collection with artists, culinary colleagues and friends around the world, Sodamin was told that he should compile the Food Faces into a book. So he did. Released in 2017, his book is aptly named "Food Faces – 150 Feasts for the Eyes."
The book is available at bookstores and online. Bernardaud plate charger sets and Sodamin's book also can be purchased onboard Holland American Line ships.
For an artist and a chef, Sodamin said the biggest compliment he can receive is to make someone happy with his food and his art.  As he concludes in his book, "It would be hard to enjoy any higher praise."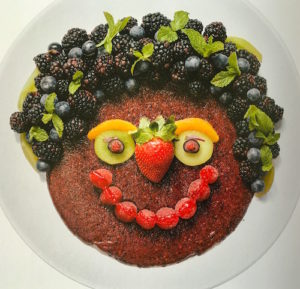 Photos by Jackie Sheckler Finch